Presentation Services
All of the high-powered courtroom tools provided by Key Evidence have the same common purpose: to give you the most compelling courtroom presentation. With our trial presentation technology, the pleadings and evidentiary support you have worked hard to build will come across in an effective and easily understood format. Take advantage of the digital age to punctuate your oratory, make important legal graphics stick in the minds of the jury, and present trial exhibits in the most vivid and compelling way possible.

Download Brochure (PDF)
Professional Videography
The days of reading a testimony in court are over. Key Evidence offers professional videography services which preserve the emotion and non verbal cues that experts say attribute to 93% of learning. In court, video depositions will be presented in a large screen bringing the human aspects back into the courtroom for everyone to see. The YesLaw software allows for easy searching and precise location of the transcript.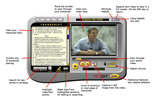 Interactive Video
Get involved with your presentation like never before with our interactive technology. Tools like Smart Techologies Smartboard give you the power to give a dynamic presentation and easily document it all for later reference.
Nothing brings a compelling human quality to your courtroom presentation like video. Key Evidence uses the best available courtroom technology, including Smartboards by Smart Technologies, Inc., to make the video component of your presentation effective and memorable. There is no better way to make a vivid and interactive evidence presentation in court than by displaying it for the whole courtroom to see on a Smartboard. Smartboards provide a large, high-quality display to match our professional videography services, but that's only the beginning. This monitor doubles as an interactive electronic "whiteboard", allowing you to add your own illustrations and markings to the screen on top of the video, legal graphics, demonstrative exhibits, and other components of your courtroom presentation. When you need, you can save and print the entire display, including your "whiteboard" markings, preserving a handy record of the proceedings without hassling with unwieldy flipcharts. What's more, the Smartboard is its' own computer, giving you the power to quickly perform keyword searches and other necessary tasks without moving away from the presentation. Give the jury a lasting impression of your evidence presentation, with Key Evidence trial presentation technology.

Download Brochure (PDF)
Get the Jury's Attention and Keep It
Key Evidence provides state-of-the-art courtroom technology to leave a lasting impression. These complicated concepts can be easily understood with 3D Animations, colorful imagery and enlarged helpful illustrations. Visual Communication is your key to the jury's final decision.

Download Brochure (PDF)